Burke Quarry, which opened in the Spring of 2019, has been three generations in the making.
In 1946 Gordon T. Burke started Gordon T. Burke & Son's Inc. General Contracting which specialized in large and site development in the Mt. Washington Valley and beyond. The business was taken over by his sons Curt and Tom Burke, Sr. when Gordon retired. Now, they have passed the family business into the capable hands of their own sons, Jeff and Tom Jr.
With a plethora of experience between the two, Tom, Jr. first began working for the company as a boy during the summers and school vacations. He then went on to get his degree in business management from Plymouth State.
Jeff joined Gordon T. Burke at age 16 working during summers and school vacations then full time as an adult.
Now they have expanded the family business with the grand opening of the Burke Quarry, a state-of-the-art facility that streamlines the process for drivers and contractors alike.
The Quarry scale system weighs the trucks upon entry and again after they've been loaded with crushed stone or gravel mixes to make for a fast and accurate transaction.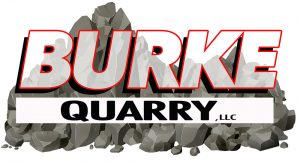 Receipts are then dispensed right from the weigh station without drivers ever having to leave their trucks.
The Burke Quarry supplies aggregates to local construction sites for General Contractors and Homeowners. Deliveries can be scheduled or products can be purchased and picked up at the quarry.
Since December of 2018, Burke Quarry has mined 70,000 yards of stone. The process involves drilling an intricate grid up to 50 feet deep and then blasting apart the stone with dynamite. We partner with Maine Drilling and Blasting for all the blasts on site and adhere to strict state safety standards.